Alexandria Virginia Builder
Let the addition specialists at Post Designers & Builders help you with a new In-law suite, family room remodeling or even the kitchen or bathroom redesign. Serving the Alexandria and Fairfax County VA area.
Quality Home Improvements
at Affordable Prices
Call 703-369-3677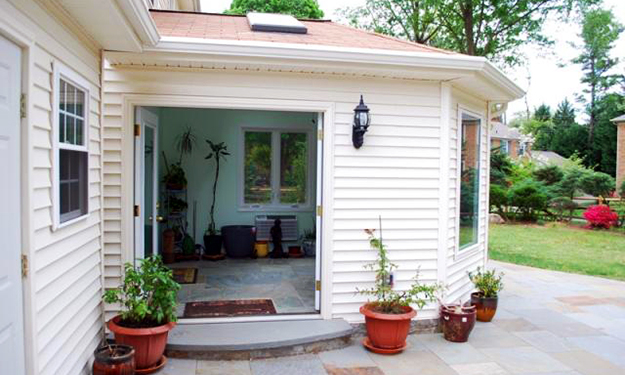 With Post Designers and Builders expertise you can count on no mistakes, problems or surprises. Be it windows, siding or roofing, bathrooms, kitchens or making your home taller or wider, Post Designers will accomplish the task with finesse and beauty.
Complete Home Improvement Contractor Services in Alexandria and Alexandria City VA
Post Designers and Builders offer a full line of construction services, specializing in custom residential remodeling, room additions, kitchen remodeling, bathroom remodeling, basement remodeling, roofing, siding and replacement windows.
Our Alexandria Virginia Builder & Remodeling Services include:
Complete Renovations
Bathrooms
Kitchens
Family Rooms
Garages
Roofing
Replacement Windows
Basement Renovations
Vinyl Siding
Dormers
Extensions / Room Additions
Renovation Following Storm Damage or Flooding
Fire Restoration
Senior Citizen Needs
Your needs may change as you age, but that doesn't mean you need to leave your home. Aging-in-place remodeling will make sure you can more safely enjoy your home's interior and exterior. Including ramps, bathroom hand rails, and other ease-of-access renovations, our professionals will make sure you are completely comfortable in your home.
Custom designed home remodeling experts serving residents and businesses in the following Alexandria VA areas:
Alexandria
Cameron Station
Fort Hunt
Groveton
Huntington
Hybla Valley
Mt. Vernon
Rose Hill
Arlington Ridge Rd
Beauregard Street
Bellefonte Avenue
Braddock Road
Chambliss Street
Duke Street
Eisenhower Avenue
Four Mile Run
Franklin Street
Glebe Road
Glendale Avenue
Green Street
Henry G. Shirley Memorial Highway
Henry Street
Indian Run Parkway
Jamieson Avenue
Janney's Lane
Jefferson Davis Highway
Jefferson Street
King Street
Mt. Vernon Avenue
Patrick Street
Pitt Street
Route 1
Route 236 Area
Route 395
Route 7
Seminary Road
Washington Street
George Washington Memorial Parkway
Gunston Road
Holmes Run Parkway
Van Dorn Street
Alexandria West
Areas near Washington Sailing Marina
Arlandria
Brook Valley Area
Del Ray
Eisenhower
Fort Ward Area
Four Mile Run Area
Landmark
Old Town Alexandria
Potomac Yard
Rosemont
Westover